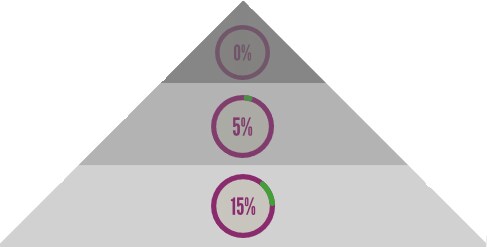 What is an interest rate?
An interest rate is the amount of money that the lender, or bank, charges you to borrow money for the purchase of your vehicle. It's represented as a percentage of the total amount of the loan.
Who sets the interest rate?
The standard automotive loan rates are set by the major banks in Canada, as well as any other auto lending companies used by a dealership. FCA (Fiat Chrysler Automobiles) Canada may also offer monthly "subvented" rates to lower the amount of interest charged by the banks when you purchase a new Chrysler, Dodge, Jeep, or Ram vehicle.
What is the biggest determining factor in MY interest rate?
Your credit history and credit score make the biggest difference in determining what your interest rate will be.
What is a credit score?
Your credit score is a 3-digit number that can range anywhere from 300 to 900 points. 
Points are gained 

and lost based on how you've handled credit in the past. Things like missing payments, being too close to your credit limits, past collections, or write-offs all have a negative impact on your credit score, and can lower it. 

The higher your credit score is, the lower your interest rate will be. This is because lenders view customers with a higher credit score as less of a risk.
Other factors in determining interest rate:
Having a down payment 
Having a qualified co-signer 
The length of your term 
The total amount of the loan 
Whether you choose a personal loan or use dealership financing 
When you choose to use a financing option from Kingston Dodge, we'll ensure you get the lowest rate available by taking advantage of the best real-time rates and various programs. 
If you'd like to explore your credit options with Kingston Dodge, you can get started now by filling out the application below! 
Make an Inquiry
Hours
Monday

8:00am-7:00pm

Tuesday

8:00am-7:00pm

Wednesday

8:00am-7:00pm

Thursday

8:00am-7:00pm

Friday

8:00am-5:00pm

Saturday

9:00am-4:00pm

Sunday

Closed