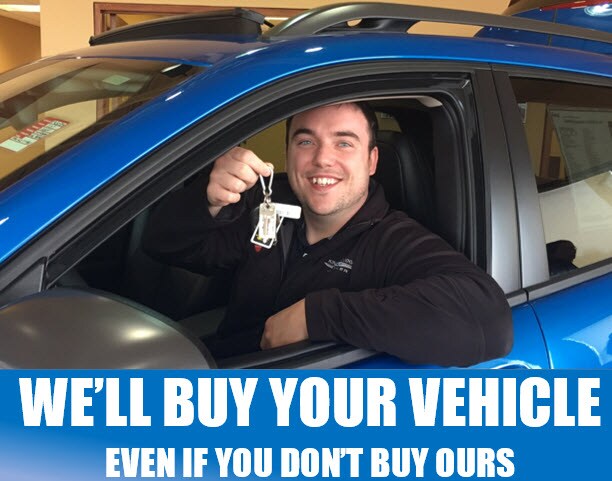 We will buy your vehicle if you are ready to sell it!
Kingston Dodge is proud to offer a variety of pre-owned vehicles for sale in Kingston, which means we're always on the lookout for fresh, new inventory. If you're ready to sell your vehicle, consider Kingston Dodge! We'd like to look at your vehicle, regardless of the year, make, model, or condition. 
Why sell your vehicle to Kingston Dodge Chrysler?
If you sell us your vehicle, there's no obligation to purchase a vehicle from us.
Our appraisal process is fast and easy, and our written offer is good for 7 days.
You will receive your payment quickly, with no hassle.
We're dedicated to complete transparency in the appraisal process. 
How the appraisal process works
To get the best value for your vehicle, our appraiser will:
Test drive your vehicle
Inspect your vehicle and determine its value based on year, make, model, mileage, condition of the interior and exterior, any modifications or add-ons, and the vehicle history report.
Give you a written offer that is valid for 7 days after the inspection is complete.
What you should bring for your appraisal
To make sure the appraisal and sales process goes smoothly, you should bring the following:
 Your vehicle's valid registration.
 A valid driver's license.
 All keys. If original keys or remotes are missing, your offer may be re-evaluated.
 A confirmation of payment or lien release, stating there is no financial obligation on your vehicle. If there is, please bring the information needed to obtain a vehicle payout. (For example, the account number and lien holder.)
At Kingston Dodge, we'll do everything in our power to make selling or purchasing a vehicle into a pleasure, not a chore. We'll be here every step of the way! We take pride in welcoming returning customers, and when you choose to shop with us, you'll see why. Visit Kingston Dodge today! 
Hours
Monday

8:00am-7:00pm

Tuesday

8:00am-7:00pm

Wednesday

8:00am-7:00pm

Thursday

8:00am-7:00pm

Friday

8:00am-5:00pm

Saturday

9:00am-4:00pm

Sunday

Closed
Make an Inquiry